GENERAL INFORMATION
Hotel lodging while at the conference will be arranged and provided for all registered conference attendees. Conference attendees are asked to organize their own travel to and from the host site. Typically, travel to and from the conference is provided by the attendee's home institution. Once accepted to CUWiP, please request travel funding from your department or university, through either a faculty member or an adviser (they are happy to help!). If an attendee's home institution is unable to provide travel support, limited reimbursement for travel can be provided for by the conference with prior approval. Please email us at
umdCuwip2020@umd.edu
.
If students are being reimbursed for travel by the conference, pre-approval is required for all expenses. Attendees need to keep all original receipts for reimbursement after the conference ($45 application fee is not reimbursed).
To go from the hotel to the conference site, shuttles will be provided. Also the distance on Saturday and Sunday will be walkable, but shuttles will be available for those with disabilities.
Students will be assigned, but can request roommates during the registration process. All students will have their own bed with 2 to a room.
Meals and accommodation costs are arranged during the conference.
Special dietary restrictions will be noted during the registration process and accommodated for. If you have an urgent dietary restriction that you would like to discuss, feel free to email us at umdCuwip2020@umd.edu.
Conference Hotel:
Cambria Hotel College Park
8321 Baltimore Ave, College Park, MD 20740•(301) 595-2600102
UMD Conference Site:
Edward St. John Learning Center
4131 Campus Drive, College Park Maryland 20742
NIST Friday January 17th Conference Site:
Visitors Center
100 Bureau Drive, Gaithersburg, MD 20899
Since NIST is a controlled-access facility, we need to ask a few questions to process your registration. Furnishing this information is voluntary, however this information is required in order to participate in a NIST sponsored event. The failure to provide accurate information may delay or prevent you from receiving this access. Please complete the form:
https://appam.certain.com/profile/form/index.cfm?PKformID=0x55386abcd
PUBLIC TRANSPORTATION AND DRIVING DIRECTIONS
For more information on public transportation options, visit the
WMATA
website. Driving directions and additional information are available on the
University of Maryland Visitors page
. We encourage students to coordinate with other students who may be driving from the same home institutions to help minimize travel costs and reduce environmental impact. If you have travel concerns, please contact the organizers at umdcuwip2020@umd.edu.
AIR TRAVEL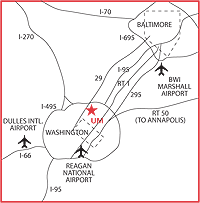 There are three major airports that serve the greater DC metro area:
Ronald Reagan Washington National Airport - DCA
Using Public Transportation: Reagan National Metro (Yellow Line) to College Park Metro (Green Line) switch from Yellow Line to Green Line at L'Enfant PlazaSuper Shuttle Costs: $28.00 one-way
Taxi: 15 miles / 25 kilometers. Approximately $30
Baltimore/Washington International Thurgood Marshall Airport - BWI
Using Public Transportation: B30 Metrobus to Greenbelt Metro ($6) then Greenbelt Metro to College Park Metro stop (only one stop)
Super Shuttle Costs: $32.00 one-way
Taxi: 25 miles / 40 kilometers. Approximately $60
Washington Dulles International Airport - IAD
Using Public Transportation: 5A Metrobus to L'Enfant Metro, then L'Enfant Metro to College Park Metro (Green line)
Super Shuttle Costs: $39.00 one-way
Taxi: 58 miles / 67 kilometers. Washington Flyer Taxi approximately $80